Halal-Certified Buffet Caterer since 2008
Orange Clove was launched to fill the market gap for mid to high-end Corporate Catering, offering reliable service with restaurant quality cuisine.
A Menu for Every Occasion
*Menu Prices shown are not inclusive of GST
Buffet Catering
Menus: 4 Standard, 2 Premium, 2 Healthier
Price: $21 -$36/guest
Min. 30 guests (Except for Apricot Menu)
Mini Buffet Catering
Menus: 3 Asian, 3 High-Tea, 3 International
Price: $10 - $26/guest
Min. 10 guests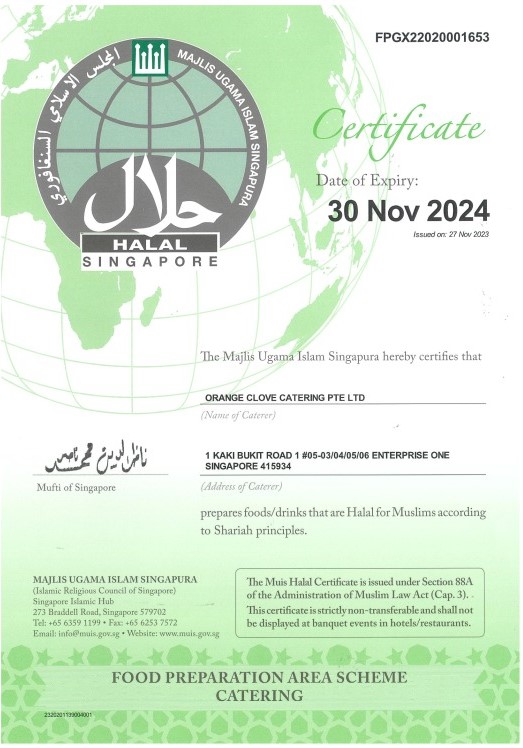 About Us
Established in 2008, Orange Clove stands proud as a MUIS certified Halal buffet caterer, garnering recognition as one of Singapore's most recognized corporate caterers. Our commitment to adhering to stringent Halal standards includes every aspect of our operations, from ingredient sourcing to preparation methods and kitchen management.
The Halal certificate and logo can be displayed at your event upon request so your guests can enjoy the food with a peace of mind.
Whether it's an event for your company, yourself, or your friends, you can count on Orange Clove to deliver an exceptional culinary experience tailored to your Halal preferences!